Cyber insurance professionals play a critical role in helping businesses understand and manage their cyber risks. Understanding email security is therefore a critical aspect for all cyber insurance professionals.
The Cyber Insurance Academy is delighted to be hosting our Industry Peers at Check Point as we dive into this topic during this month's online Masterclass. This is a unique opportunity for our Community Members – not to be missed!
Fill In The Sign-Up Form To Secure Your Spot
Can't make the live session? Register anyway and we'll send you a link to the recording.

Why Cyber Insurance Professionals Need To Understand Email Security
75% of organizations worldwide reported an attempted business email compromise (BEC) attack last year. 
Cyber attackers often gain access to sensitive information, such as financial data, passwords, and personal information, through email security breaches. The consequences of a successful attack can be severe, leading to reputational damage, legal liability, and financial loss for your clients. By having a strong grasp of email security trends and best practices, cyber insurance professionals can evaluate their clients' cyber hygiene posture and provide valuable guidance to help them select the appropriate insurance policy and vendor for their business.
Email Security Masterclass Learning Objectives:
Identify & explain key trends relating to email security & BEC attacks.
Give examples of best practices that your insureds should follow to mitigate the impact of attacks via emails; apply these to evaluate their cyber hygiene.
Explain what a catch rate is, how the cost of remaining risk is calculated and what these metrics can tell us about the efficiency of your insureds' email security vendors.
Meet The Email Security Masterclass Speakers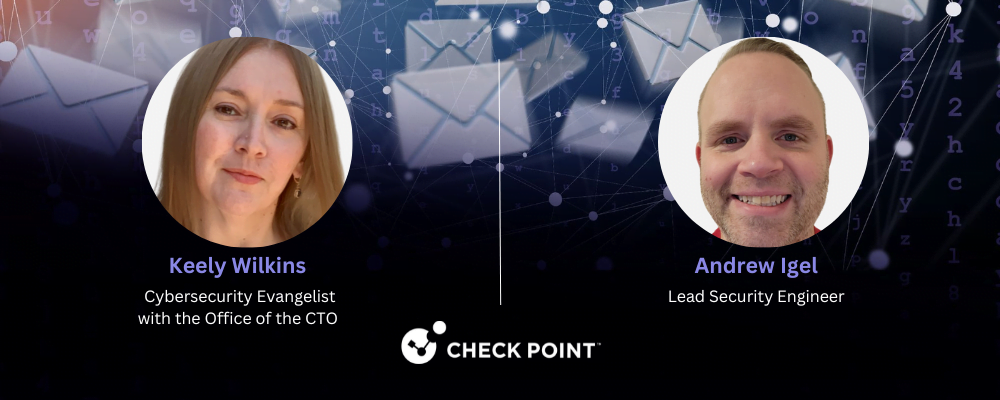 Keely Wilkins
Cybersecurity Evangelist with the Office of the CTO at Check Point Software Technologies
Keely Wilkins has worked in the technology industry for over twenty-five years, holding positions in Fortune 50, Telco, VAR, and Higher Education organizations before joining Check Point in 2019. Keely is a Contributor to the "Partnership Against Cybercrime" working group with the World Economic Forum. She holds a Master of Science in Cybersecurity from Florida Tech and is currently studying toward a Master of Legal Studies specializing in Cybersecurity Law and Policy at Texas A&M University School of Law. Keely endeavors to find balance among transparency, predictability, and security.
Andrew Igel (CISSP, CE|H, Security+)
Lead Security Engineer at Check Point Software Technologies
Andy Igel's career in information security, technology and compliance spans over twenty-five years and has included numerous positions in both the public and private sector. He is experienced in all sides of compliance and information security, including technology, policies, and auditing. Andy will be providing a technical overview of software that can help to combat the issue of email security.
About Check Point
Check Point Software Technologies Ltd. is a leading provider of cyber security solutions to corporate enterprises and governments globally. Check Point Infinity's portfolio of solutions protects enterprises and public organizations from 5th generation cyber-attacks with an industry leading catch rate of malware, ransomware and other threats. Infinity comprises three core pillars delivering uncompromised security and generation V threat prevention across enterprise environments: Check Point Harmony, for remote users; Check Point CloudGuard, to automatically secure clouds; and Check Point Quantum, to protect network perimeters and datacenters, all controlled by the industry's most comprehensive, intuitive unified security management; Check Point Horizon, a prevention-first security operations suite. Check Point protects over 100,000 organizations of all sizes.
Become a Certified Cyber Insurance Specialist here.