What To Expect From Cyber Insurance In 2023
The cyber insurance industry experienced some significant growing pains in 2022. As we push on into the new year, the market is likely to find itself uncomfortably sandwiched between two phases in its development. We will see a market that is still young enough to justify its frequent, rapid changes, but also old enough to know better.
Here to help us make sense of the complexities of cyber risk and insurance over the coming year, is a panel of leading industry experts. Join us for an in-depth review of the state of the cyber insurance market. This is a rare opportunity to hear from representatives from all key roles in this complex and dynamic market.
Fill in the sign-up form to secure your spot

Can't make the live session?
Register anyway and we'll send you a link to the recording.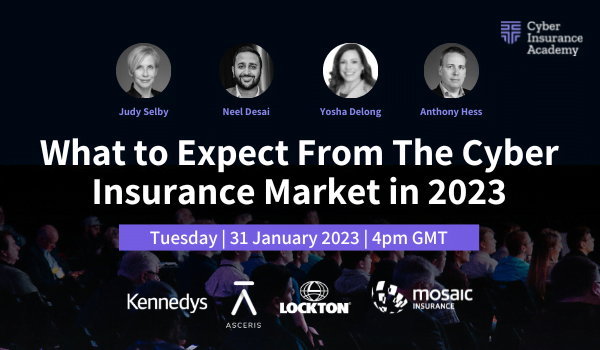 Topics covered:
Tackling communication gaps in the cyber policy supply chain
Curbing the domino effect of systemic cyber risk
Reflecting on the rise of the proactive cyber policy
Riding the technology wave in today's unchartered waters
And much more…
Meet the Speakers
Yosha Delong
Global Head of Cyber, Mosaic
Yosha's underwriting experience spans over two decades and includes heading up Zurich North America's Cyber Underwriting team. She now acts as Global Head of Cyber at Mosaic Insurance, an innovative, specialist cyber insurer hailed by Advisen as "Cyber Newcomer of the Year 2022".
Neel Desai
VP Cyber, Lockton
Neel is the Vice President of Lockton's Cyber Practice department. With over a decade of experience as a claims attorney and a background in complex cyber and technology claims, Neel brings a unique perspective and skillset to Lockton, the world's largest privately held insurance brokerage firm.
Judy Selby
Partner, Kennedys
Judy is a partner in Kennedys' New York office. She assists insurers with cyber insurance claims and policy wording. Judy is a frequent speaker at cyber insurance industry events and has been featured in prominent publications, including the Wall Street Journal, Law360, and Fortune, concerning insurance for cyber and other emerging risks.
Anthony Hess
CEO, Asceris
Anthony is a cyber security leader with over 20 years of professional experience in cyber security, cyber insurance and information technology. Previously, Anthony served as a Kivu Managing Director, Head of Incident Response (Cyber Claims Director) at CFC, and KPMG cyber insurance services lead.
Interested to learn more about the latest developments in cyber insurance? Visit our course catalog for more information on our cyber insurance training.