** Please note, the original time for this Masterclass (4pm GMT) has changed. It will now be held at 5pm GMT. If you cannot attend at this time, a recording will be sent to your email shortly after the Masterclass is finished. We apologise for any inconvenience **
This month, the Cyber Insurance Academy will be taking a deep dive into Zero Trust frameworks, with the help of our Industry Peers at Zscaler.
Organizations have rapidly evolved, modernized, and transformed, but did cyber security evolve with it? Join this Masterclass to understand how we got to the current state of cyber security risk and how the cyber security industry has shifted to reduce exposure, evidenced by some organizations being in a stronger position to better protect against peril.
In this Zero Trust Masterclass:
Cybersecurity then and now. What prompted the dawn of the Zero Trust framework?
Zero Trust defined. What it is, why it works, and how much of an organization's data is covered?
Zero Trust in action. How does this framework affect the insurance industry and what do cyber insurance professionals need to know?
Real-life examples. We will look at proposal form questions and apply them to Zero Trust models.
Fill in the sign-up form to secure your spot


Can't make the live session?
Register anyway and we'll send you a link to the recording.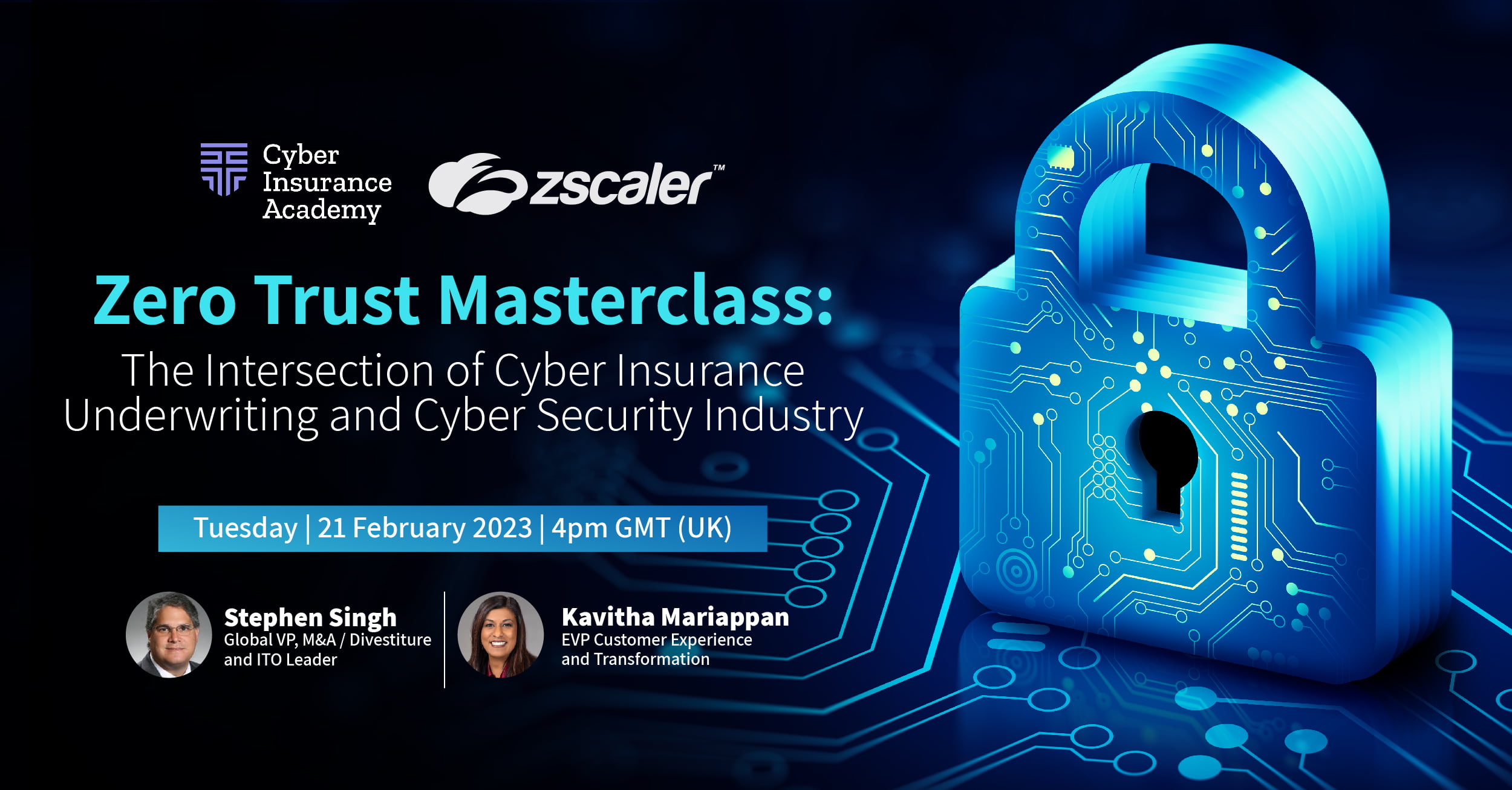 Meet the speakers
Kavitha Mariappan
EVP Customer Experience and Transformation
Kavitha is a seasoned go-to-market executive with a penchant for rapidly translating technology into customer-centric value, mobilizing global teams and operations, and transforming them into high-growth businesses. Kavitha is responsible for driving global transformation and innovation across all facets of Zscaler's business, customers, strategy, products, and operations, with a strong focus on customer value creation. Kavitha holds a Bachelor of Engineering in Communication Engineering from the Royal Melbourne Institute of Technology, Australia, and a Master of Science in Cybersecurity Risk and Strategy from New York University School of Law and Tandon School of Engineering.
Stephen Singh
Global Vice President of M&A/Divestiture and ITO Strategy, Planning and Implementation
Stephen focuses on accelerating clients' success through inorganic transactions, with an emphasis on aligning technology, risk and operations. Stephen has more than 25 years of industry experience spanning Management Consulting, Professional Services, Enterprise IT and Hi-Tech Go-To-Market responsibilities and has extensive experience leading Enterprise IT organizations including PwC, Travelers Insurance, Juniper Networks, Cosine Communications, and AT&T. Stephen earned a B.S. degree in Computer Science and Applied Mathematics from the University of Rochester and attended MIT's Sloan School of Management, Executive Education Program.