In today's interconnected world, third-party cyber risk is a serious threat to all businesses and organizations. Our next Masterclass will address the risks associated with doing business with unsecured third parties ("upstream" and "downstream"), and how to mitigate those risks. This free Third Party Cyber Risks Masterclass is ideal for insurance professionals on both the broker and carrier side, (underwriting and claims) who want to take a deeper dive into a very significant issue that frequently arises in cyber claims.
The Cyber Insurance Academy is delighted to be hosting our Industry Peers at FisherBroyles as we dive into this topic during this month's online Masterclass. This is a unique opportunity for our Community Members – not to be missed!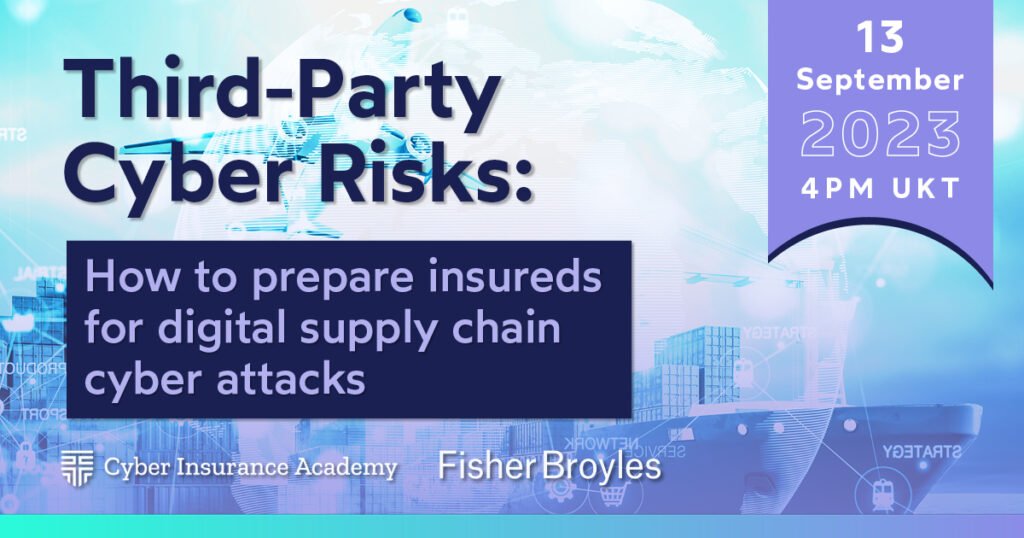 Fill In The Sign-Up Form To Secure Your Spot
Can't make the live session? Register anyway and we'll send you a link to the recording.

Third Party Cyber Risks Masterclass Learning Objectives:
Explain the cyber risks associated with third-party access to policyholder data
Outline best practices to mitigate those risks
Identify the risks associated with third parties in the policyholder's upstream and downstream supply chain
Apply legal and regulatory requirements related to digital supply chain cyber risk to your assessment of an insured's cyber risk posture
Meet Third Party Cyber Risks Masterclass Speaker
Stuart A. Panensky, Esq.
Partner, FisherBroyles, LLP
Stuart Panensky is an experienced corporate privacy attorney and commercial litigator. Stu has extensive experience acting as incident response / data breach counsel to companies in multiple industry sectors. In leading incident response investigations, Stu is networked with industry leading incident response vendors (IT, forensics, data mining, public relations, breach notification and others) and coordinates them as appropriate. Stu advocates for clients that are subject to State and Federal government privacy investigations and has personally handled every phase of commercial litigation. Stu also provides corporate privacy counsel, drafts incident response planning documents and hosts mock-breach "tabletop" presentations.
About Fisher Broyles
FisherBroyles is the world's first and largest distributed law firm, ranked by The American Lawyer as one of the 200 largest law firms by revenue.
Become a Certified Cyber Insurance Specialist and join the largest community of cyber insurance professionals here.